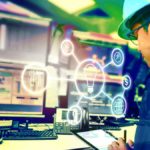 Condition monitoring (CM) is the process of monitoring a parameter of conditions in machinery (vibration, in order to identify a significant change that is indicative of a developing fault.
Below are a few examples of what can be monitored:
Vibration analysis and diagnostics. The frequency of vibration in rotating parts can indicate how well that component is operating. …
Lubricant analysis. …
Acoustic emission. …
Infrared thermology.